:86-371-86151827 86151527
:0086-371-86011881
Henan Bebon International co.,ltd is a steel-bar-specialized factory, located in zhengzhou city, south of henan province. Found in 2000, it takes an area of 520,000 square meters.
1556 spring steel bar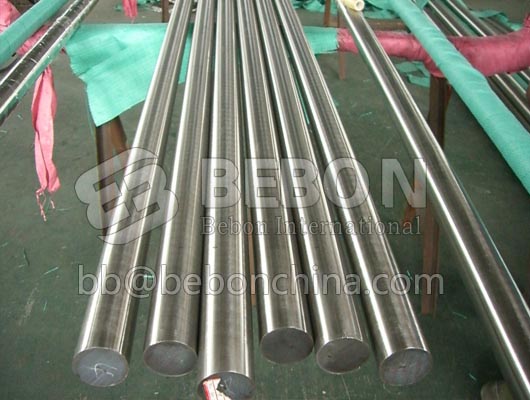 1556 spring steel strength, hardness, flexibility and higher than the SUP6 steel hardenability, sensitivity and temper brittleness tendency for overheating, has a tendency to form cracks. Annealing state can be well machinability, cold deformation plasticity is low, poor weldability. The medium load plate spring, 7-20 mm in diameter coil spring and spring washer. Spring ring. High wear-resistant parts, such as grinding machine spindle. Spring clip. Precision machine screw. Cutter. Embossing roller bearing on the ring. The railway rail, etc
1556 spring steel mechanical properties:
Sigma b (MPa) : 825 ~ 925 yield strength sigma s (MPa) : 520 ~ 690
Elongation delta 10 (%) : 14 ~ 22.5 percentage reduction of area bits (%) : not more than 10
Hot rolled, 302 hb or less; Cold drawn + heat treatment, 321 hb or less
Heat treatment specification and metallographic organization:
Heat treatment specification: 830 ℃ quenching + 20 ℃, oil cooling; Tempering 540 ℃ + 50 ℃ (special needs, plus or minus 30 ℃).
Delivery status: hot rolled steel with heat treatment or not heat treatment state delivery, cold drawn steel with heat treatment state delivery.
1556 spring steel rho = 7.85 g/cm3 density, the steel can be cold-rolled ChengGangBan, steel strip and steel wire, spring. 1556 spring steel can be made into tools such as bench chisel, needle.
1556 spring steel general section size can be made up for 8 ~ 15 mm or so small spring such as all kinds of small size flat, round spring, cushion springs, spring spring
.
1556 spring steel characteristics and scope of application: 1556 spring steel, manganese improve hardenability, phi 12 mm steel oil can be hardening, surface decarburization tend to be smaller than silicon steel, after heat treatment of the comprehensive mechanical performance is better than that of carbon steel, but there are overheating sensitivity and temper brittleness. Used for small size flat, round spring, seat cushion, spring, spring wind, also can make the spring ring, reed valve spring, clutch, brake spring cold rolled and cold drawn steel wire spiral spring.